Wed, 6 April 2016
Episode 22: More Cheddar for our Craftworld Cousins
We are joined for the second half of our Imperial Armour 11 coverage by Eric from the Variance Hammer blog to talk the offerings for Craftworld Eldar players.
Check out the blog here: Variance Hammer
---
Sun, 27 March 2016
Splintermind Episode 21: Killing it with Corsairs take two: Revenge of the Superguppy
We are joined by Alex (Cavalier AVA from the Dark City) to review the Corsair list form Imperial Armour 11. We talk list entries, modeling, and the sad, sad puppy that is Dissonance weaponry. This episode is nearly three weeks late due to a Google search for Superguppies and real life challenges. Splintermind: Always late, but worth the wait!
---
Thu, 25 February 2016
Splinter Raid Episode 2: Hobby Motivation in 2016 REVISED!
Join host Brian as he interviews Justin from the It Will Not Die podcast, James Stagg from the 1HourANight Facebook page, Adam AKA Loopy from the Independent Characters Hobby Progress Challenge, Spellcheck from Thedarkcity.net, and a very reluctant unnamed guest as we talk staying motivated in the hobby in 2016! At the end of the episode we finally draw the winners of the iTunes review promotion. Winners: Please contact us through the Facebook page or via PM at Thedarkcity.net!
Please visit the sponsor of the promotion over at Fallouthobbies.com and check out their great products!
Check out the sites and shows of our guests!
http://objectivesecured.blogspot.com/
Note: The Revised episode corrected the awful audio of the drawing! Don't edit after working an 11 hour day kids!
---
Wed, 3 February 2016
Splintermind Episode 20: Getting Freaky with the Freakshow
We are joined by Freakshow Tactica author Jimsolo from Thedarkcity.net forums for a discussion on running the ultimate leadership shenanigans using Dark Eldar, Craftworld Eldar, and Harlequins for maximum terror and profit! Also featured is an interview with Nick (AKAThe Burning Eye from the forum) talking about his Hero for a Day charity event this summer. More information for the event can be found here:
\http://theburningeye.blogspot.co.uk/2015/11/gaming-for-charitable-gain.html?m=1
A couple of announcements: Jim's audio signal was rough in a few spots, listen on and the audio does improve! As mentioned on the Facebook page, we are looking for one person from each country outside of the United States that left reviews with iTunes accounts registered outside of the United States to send us a list of people that left reviews. Simply message us with the user names only of those that left reviews and we will enter your name twice! As an added bonus, Brian will probably butcher your name on Splinter Raid Episode 2 dropping February 17th when the winners are announced. Thanks again, our listeners are the best!
-Brian
---
Wed, 6 January 2016
Splintermind the Dark Eldar Podcast Episode 19: Shedding Darklight on the Greater Good
We are joined by Zach from the G3 San Jose group to talk Tau! Zach helps us review the changes to the Tau codex and new formations while giving insight on what to expect when fighting the Fish People. What to do, what to avoid is covered. Episode 19 also features a 3,000pt battle report with Andrew (BAO interviewee) teamed with Brian against Zach and Doug (AKA: Replacement Geoff of IC fame)
---
Mon, 7 December 2015
Splintermind Episode 18: True Kin Through the Ages Part 2
We are joined by Alex (Cavalier AVA) and Paulie (Sky Serpent) for our continuing discussion of Dark Eldar in 40K through the ages. We discuss the 5th Edition reboot and current codex. This episode also features an interview with Golden Daemon winner Ryan Herbranson on to discuss a promotion on his Twitch painting channel as well as an interview with multiple Golden Daemon, Slayer Sword, P3 Grandmaster, and Crystal Brush winner Thom Ales. This episode weighs in at nearly three hours and features lots of references to editing that will never happen!
---
Wed, 4 November 2015
Episode 17: True Kin Through the Ages Part 1
It's the one year anniversary episode! This is part one of our review of Dark Eldar as an army starting with the introduction in 3rd edition. As well as a spirited debate about whether or not Gary Morley was a total hack sculptor, we cover the origins of Dark Eldar in 40K fluff, the good/bad/and ugly of the original models, as well as a discussion reminiscing the good days when Dark Eldar played like Dark Eldar on the table. (GET OFF MY LAWN kids!) We interview Archon Claus from Thedarkcity.net about the upcoming Space Raid forum gift exchange and Khain mor of Dark Moon Kabal fame. Our iTunes review promotion is also announced, so get those reviews in and win great prizes from Fallouthobbies.com!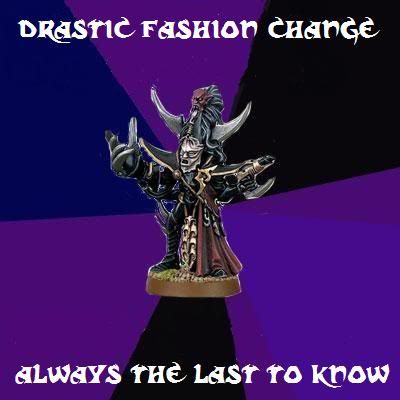 ---
Tue, 13 October 2015
Episode 16: Realspace Raiding for Noobs
We are joined by listener Jack Gerlicher for our guide to playing Dark Eldar for beginners in Brian's first episode back from paternity leave....and the rust shows as he carves all the intros a new one. This episode also features an interview with listener Greg Lewis from the Overlords gaming group in London as we discuss the perils of overseas Revenant shipping. Enjoy!
---
Fri, 4 September 2015
Splintermind: The Dark Eldar Podcast - Episode 15
Thor is left bereft of co-hosts, but thankfully is still joined by Squidmaster and Darkgreen Pirate, two 1st place prize winners of the Fiction competition on TheDarkCity.net as they discuss the Dark Eldar and how they are portrayed in Warhammer 40k fluff. The good and the bad are mentioned as well as some advice on writing the True Kin.
I also apologize (with shame) for my constant mispronunciation of 'coven' but...well, American Movie is one of my favorite films and it messes with your head after enough viewings.
Torturer's Tale - the quinessential Dark Eldar story, as penned by Gav Thorpe and preserved on TheDarkCity.net
---
Wed, 5 August 2015
Splintermind: The Dark Eldar Podcast - Episode 14
Thor and Cavalier take over the show as Brian is pulled away by real life Trueborn. The Dark Angels codex is reviewed as we discuss what it means for the Dark Eldar. Then we turn our conversation to an overall consideration of the DE codex in the meta of Warhammer 40k at the moment.
Plus - the first of our doner interviews as we try to shake a train story.
---